A Generous Life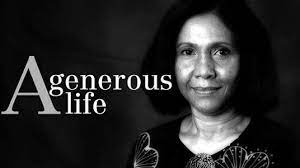 By Mohani Niza

Publication: Goreng (The Malaysian Insider)

Date of publication: 18th January 2011

She's been a regular volunteer for years, and last year started the Pertiwi Soup Kitchen which feeds the Kuala Lumpur poor four nights a week.
But Munirah Hamid's lesson in generosity started early. At the age of five, she began helping her mother dole out food to men outside the local mosques in their hometown of Alor Setar, Kedah.
The men had trekked from neighbouring Thailand, and were starving as they arrived for Friday prayers. Her housewife mother would cook for them "bubur susu" (rice pudding): a nourishing mixture of rice and milk with a sprinkle of sugar and a slice of banana on top. Little Munirah's role? To cut the banana leaf that held the rice pudding.
"I would cut the banana leaves into little patterns. I had to make sure they would hold the rice pudding perfectly to go into the Tiffin carrier," Munirah recalled proudly.
The youngest of nine siblings, 5 of them girls, Munirah had what she called "an interesting childhood.
"My siblings and I were encouraged to be outspoken and independent," she said.
Munirah said her mother shaped her a lot. Her mother was the only child of divorced parents. In an unsuccessful bid for more kids, Munira's maternal grandparents each went on to marry a total of eight times — a fact Munirah's mother was shy of.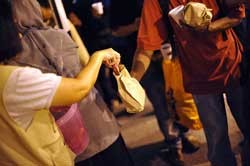 "My dad was the sociable and confident one. My mom was insecure but also kind-hearted. She always felt sorry for people and wanted to do things for them," Munirah explained.
Munirah said her mother instilled in her a spirit of giving, even though she passed away when Munirah was just 16.
A year after that, Munirah started volunteering for Pertubuhan Tindakan Wanita Islam (Pertiwi), a Muslim women's organisation that does projects-specific charity. She involved herself with everything from selling tickets to raising funds.
"I was roped in by my sisters to help out at Pertiwi, and didn't even think much about what I was doing. Each time Pertiwi called, I would volunteer. Even at times when I wasn't on any committee, I would be doing this and that," she said.
It's the kind of passion she said she saw in volunteers at her mobile soup kitchen.
Launched last March, the Pertiwi Soup Kitchen goes out four nights weekly (Mondays, Wednesdays, Fridays and Sundays) to Jalan Tuanku Abdul Rahman and Kota Raya.
Each night it hands out 200 packets of food to the disadvantaged, including drug users, sex workers and the homeless. A completely voluntary effort, the soup kitchen attracts volunteers from all backgrounds. For example, youths from the Young Muslims Project help out regularly -- and not all them are Muslims! Munirah says that what unites her diverse mix of volunteers is "a sense of wanting to do more."
"They're not comfortable with what's handed to them. They have an unconventional take on life, and are always searching," Munirah said.
In fact, being against the norm is what Munirah prides herself in. Describing herself as a "non-conformist", she left school at 16 much to her mom's disapproval. School was the prestigious Tunku Kurshiah College, and young Munirah was simply … bored.
"I understood the lessons quickly. At the start of each year, I would read my textbooks within a month. What was I going to do for the rest of the year?" Munirah said, laughing.
She went on to tutor herself and obtain an LL.B. (Hons) from the University of London. She's had her hands involved in various things ever since, including publishing and television producing. Together with her husband Robert Hercus, they founded Malaysian Genomics Resource Centre Berhad, a leading firm in genome sequencing and analysis.
To add to the already impressive portfolio, she's the managing director of a few companies, including Synamatix Sdn Bhd and Neuramatix Sdn Bhd.
Despite her tight corporate schedule, Munirah volunteers regularly. She said she hardly misses a night at the soup kitchen.
Last year, Munirah found herself stressed out when her company underwent a listing exercise. She would rush home to eat and pray, before rushing out again to head to the soup kitchen. Helping at the soup kitchen turned out to be a calming process.
"It kept my feet on the ground. It helped me to sleep at night," she said.