Malaysians' Chicken Habits Change as Poultry Prices Jump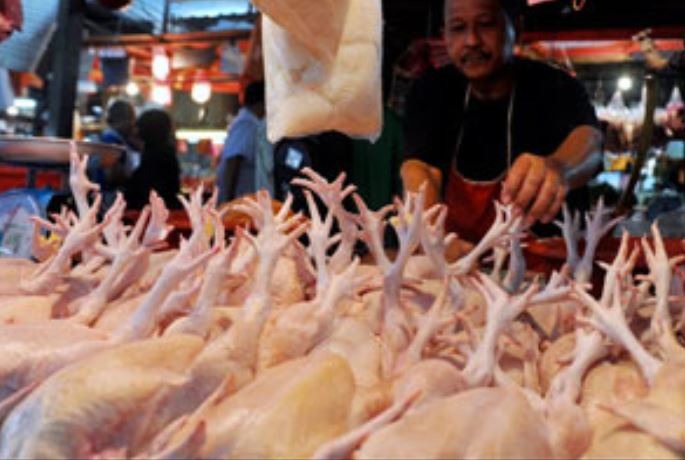 By Mohani Niza

Publication: The Malaysian Insider

Date of publication: 19th April 2011
KUALA LUMPUR, April 19 — A few months ago, Ahmad bin Azizan, 41, increased the price of his famous nasi kukus ayam dara from RM5 to RM5.50 and 30 per cent of his customers instantly disappeared.

The owner of the Nasi Kukus Sri Tradisi stalls which operate across the Klang Valley eventually regained the customers he had lost from his price hike ("they understood why I increased the price after they saw the price of chickens at the market") but it was something that he'd thought he would never have to do again — until a few weeks ago, that is.
Chicken is now about RM8 after increasing 60 cents over the last few weeks, skyrocketing from RM6.20 in February, leaving Ahmad with no choice but to raise the price of his dish to RM6.
Satay seller Zainah Ismail, owner of the famous Sate Zainah Ismail in Datuk Keramat, also wonders whether she, too, will have to increase prices at her business.
She is struggling to afford the 20 kilogram of boneless chicken daily - RM10.50 per kilogram - needed to keep her business running and plans to raise the price of her satay if chicken gets pricier within the next two to three months.
"It's okay as long as I don't lose much profit and any capital," she said.
She has gone through tough times before and knows what it's like to see her capital go up in smoke.
"It was really tiring to have that happen," she said, adding that business has been slow.
"My customers used to treat their friends, but now they just come with their families," she said further.
The high price of chickens has driven customers to hypermarkets as they scout for bargains.
Norjiana Samsuddin, 46, and Noorsham Daud, 57, are among them. For Norjiana, a domestic helper who earns just a little over RM1,000 a month and supports three children and an elderly mom, skipping sundry shops for the promotions at Tesco means she saves up to RM4 per bird.
"I pay RM13 per bird at Tesco, but at sundry shops, it costs me RM15 to RM17," she said, adding that she only goes to sundry shops if she's in a rush.
Housewife Noorsham Daud, 57, also buys chicken at Tesco during such promotions and this has helped her spend the money she and her retired husband receive from their children more wisely.
But she said chicken is still so expensive - she just buys two instead of three and this is not enough to feed her household of nine adults.
Saadiah Rosli, 34, a chicken seller at the packed Selayang Old Wholesale Market, is forced to wait for her customers to pay her before she can pay the chicken processing shop for her stock.
Restaurants that she sells to only pay her when their purchase reaches RM1,000, which takes three deliveries over nearly two weeks to settle.
"Each time they repay one debt, they owe me another," she said, adding that business is so bad that she profits only RM50 to RM60 a day.
Secretary of The Penang & PW Farmers' Association and executive director of CAB Cakaran Sdn Bhd Victor Loo said the January floods in Johor, the biggest broiler production state in the country, and the long Chinese New Year weekend in February caused livestock prices to shoot up to "the highest price in record history" of RM5.80.
"Breeder farms were unable to transport chicks to rural broiler farms which were cut off by the floods," he said, adding that this, along with the five-day Chinese New Year weekend, which shut off 90 per cent of hatcheries, caused broiler farms to delay the 40-day process it takes to harvest the chicks at their full maturity.
He also blamed the Newcastle Disease Virus (NDV), a fatal viral disease affecting most species of birds, which hit some poultry farms in Malacca and Johor last year for the price hike, but predicted that the price of livestock chickens will dip to RM5 within to two and three weeks.
An owner of a large-scale farm in Penang, who only wanted to be known as Mr. Loh, accused retailers of hiking prices, stating that the price of livestock chickens sometimes drops as low as RM3 despite the increasing price of raw materials such as chicken feed and palm oil.
"Farmers don't profit, only the retailers," he said, adding that their average price of livestock chickens for last year was RM4.40.
He also pointed out that the price of chickens in Malaysia is still cheap, compared to Vietnam and Indonesia, where it costs an equivalent of RM10 for a bird.
"The chickens in Malaysia are still the cheapest in Asia," he said.
A spokesperson of Tesco Malaysia, who wanted to be anonymous, said they were unable to comment on the practices of other retailers or on Mr. Loh's sentiments, but said they have been experiencing a marginal increase in the average cost of chicken from their suppliers recently.
"According to our suppliers, this is due to a shortage caused by increased demand," she said, adding that they want to keep their prices as competitive as possible.