Malaysians Struggle to Cope as Food Prices Soar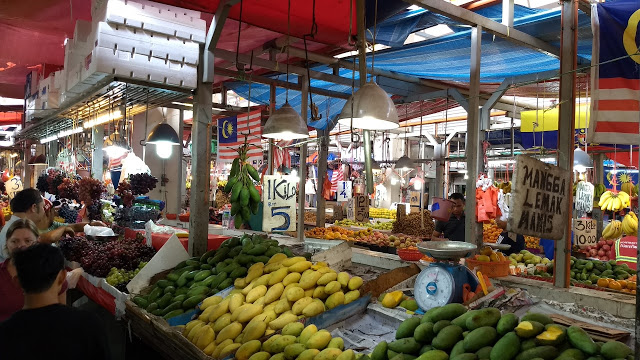 By Mohani Niza

Publication: The Malaysian Insider

Date of publication: 19th April 2011
KUALA LUMPUR, April 19 — Taman Tun Dr Ismail couple Datin Fauziah Ramly and her husband used to enjoy expensive fish but rising inflation means they now have to eat ikan kembung (short body mackerel) and sardines instead.
"Ikan kurau (threadfin) and ikan tenggiri (mackerel) are simply out of the question," she told The Malaysian Insider.
Times are hard even for this couple from the well to-do KL neighbourhood so much so that they have to plant their own kangkung (water spinach) and chillies and skip red meat altogether.
Their maid keeps an eye out for sales at hypermarkets. Datin Fauziah goes with her early before the sales end.
It's not the kind of life one would expect of this upper middle-class couple, but they have to live humbly like most Malaysians.
On the other side of town, Ampang resident, taxi driver Faiz Hakim, 36, has been hit even harder by stagnant earnings and the high cost of living, forcing him to pinch his pennies.
He is up at 6.15am almost daily, and after sending his children and wife to school and work respectively, he begins his work at 9am — and, a two-hour break aside, would continue to do so for 16 hours straight.
His monthly profit of about RM1,200 average, even when combined with his clerk's wife of RM1,400 is just enough to feed them and their school-going kids.
He used to spend RM250 on his monthly grocery bills, but now it has risen to RM400, even for the same amount of groceries. He scrimps wherever possible, including not buying chicken at sundry shops but at Tesco during promotions instead.
Given the jump in expenditure, it would be hard for this taxi-driver to make sense of official government figures claiming just 1.7 per cent inflation in 2010.
"The prices nowadays, even at sundry shops, are really melampau (over-the-top)!" he told The Malaysian Insider.
Inflated prices have also pushed some Malaysians to check the newspapers for the best deals at hypermarkets.
Single mother Norjiana Samsuddin is one of them.
This 46-year-old is forced to scan newspapers everyday for promotions at Tesco because her job as a domestic helper earns her only a little over RM1,000 monthly and she has three children and an elderly mother to support.
"I pay RM7 for two slices of red snapper at Tesco, but at sundry shops, I have to pay RM10 for the same," she told The Malaysian Insider.
The inflation has also dragged some Malaysians out of the air-conditioned comfort of hypermarkets to cramped wet markets as they hunt for cheaper food.
Rosalind Tanivill, a teacher at the French International School of Kuala Lumpur, said her weekly trips to Selayang Old Market, even though uncomfortable, help her save a lot.
"Sure, this place is dirty, but it's cheaper for me to buy here, even compared to the pasar malam (night market)," she said.
The 40-year-old skips beef altogether ("it's simply too expensive"), but has no choice but to keep buying onions because she said, "Indian food uses a lot of it."
At the end of the day, she hasn't been cutting down on food, but on entertainment and holidays instead, but said things could be worse for her and her husband who is an IT manager.
"We still don't feel the pinch much as we only have one child. What if we had three?" she said.
Traders are also scrambling for ways to lessen the inflationary pinch.
For Irawati Supian, an egg seller at the hectic Datuk Keramat Market, this means selling her goods lower than the ceiling price.
"I am simply afraid of losing customers," she said.
Roslan bin Daud, a beef seller at the same market, meanwhile has to buy less from suppliers. Beef is RM18 a kilo — up from RM16 last year — and people aren't buying as much

"Business is unlike before," he said.
At the other side of the market, Sapiah Junaidi catnapped in her petai (green bean) and banana stall. Most customers were not coming anyway that day, she explained — not that they had been doing so as much nowadays.
Customers can't afford her petai especially, up this year from RM2.50 to RM4.
"My unsold stock gets ruined and I lose a lot," she sighed.
The inflation in Malaysia, and the rest of the world, follows two worldwide trends: the surge in oil price caused by the conflict in the Middle East, and the increased demand from heavily-populated countries China and India, UN's Food and Agriculture Organisation has said.
The price of vegetables alone surged 11.5 per cent from last year, way more than meat (2.9 per cent), seafood (3.0 per cent) and dairy (5.2 per cent), according to the Department of Statistics Malaysia.
But experts predict things will be better.
The current inflation is a cyclical one, and is expected to end later this year, CEO of Tesco Stores Tjeerd Jegen said recently.
Until then, Malaysians such as taxi driver Faiz Muiz will continue to cope with the inflation the best they can.
His daily routine is hard, but necessary: find rent and gas money (RM60 total) and followed by food money (RM10 for all meals throughout the day).
He pockets just RM60 profit at the end of the workday, but said he had no choice.
"I mean, who can I complain to?" he said.