One Mouth at a Time … Reaching Out with Love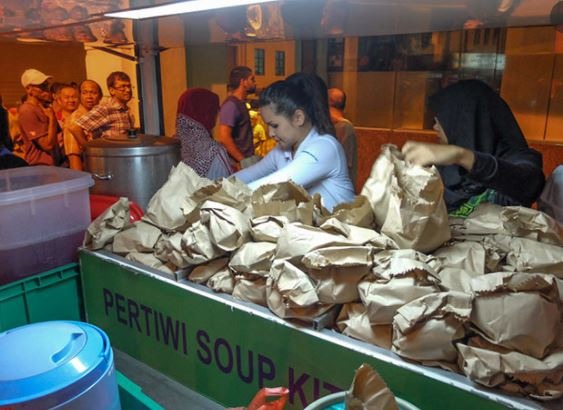 By Mohani Niza

Publication: Goreng (The Malaysian Insider)

Date of publication: 25th January 2011
Kuala Lumpur is home to many disadvantaged people though most of us fail to notice them. They live among us and constantly struggle to get two (much less three) square meals a day... very often, they have to make do with just one. Many live in ramshackle conditions while others sleep on the streets.
What can we do about this situation? Well, here are two organisations that have been doing their bit to feed the hungry around town.
Pertiwi Soup Kitchen
It was already 9 pm at Jalan Tuanku Abdul Rahman but the Pertiwi Soup Kitchen van was nowhere in sight. Perhaps it was due to the eve of Thaipusam traffic. Auntie Jasmine, 55, waited patiently. Retired and without social benefits, she often relies on soup kitchens around town.
Today she was in nearby General Hospital, so Pertiwi Soup Kitchen it was. But Auntie Jasmine was quick to warn us not to judge people like her. "We are not scoundrels, just unlucky," she said matter-of-factly.
She used to trade stocks and enjoy a middle-class life, but the 1997 financial crisis snatched it all away. Beside her, elderly Uncle Abu sat on a bench, chatting animatedly. He told us his children lived in town and had fancy cars. Asked why he didn't stay with them, he smiled weakly. Around them, many others waited patiently for their dinner.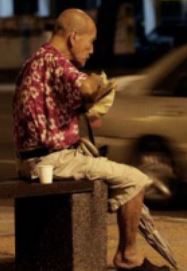 At 9.15 pm, the van rolled into view, followed by volunteers in cars. Parking at a lane between Tune Hotel and the CIMB Aviva building, the volunteers quickly snapped into action.
23-year-old Fareez Azmil divided the co-operative crowd: women and children in the first queue, elderly men in the second and young men in the third. The van canopy snapped open, and volunteers lined up against the van. Munirah Hamid, 60, the petite-but-sprightly soup kitchen co-ordinator, controlled the situation with an army-like precision.
"Pay attention and be ready!" she commanded the volunteers, some of them newbies. At "1, 2, 3, go!" they started handing out the meals: a cup of cordial drink, a packet of mixed rice, a packet of Milo, some sweets and some Mandarin oranges. The crowd shuffled in briskly. Some were stoic as they received their meals, while others clearly joyful.
One little boy, around 10-years-old, grinned as he received his food. "Some chocolates for you!" the volunteers said, guiding him along. Some of the crowd brought bottles to be filled. The volunteers happily obliged.
"Doing this is a joy. It's the highlight of my week," said 29-year-old Zuhri Yuhyi who is a copywriter by day. Tonight he was both driver and bouncer. He and his friends from the Young Muslims Project volunteer twice weekly at the soup kitchen.
"Yeah, it's truly a joy," echoed his friend Azeem Ambalam enthusiastically before they resumed their duties. The queue was short by then, though a few people came trickling in.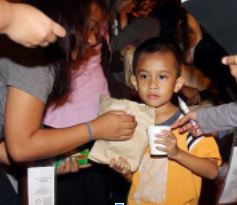 A woman asked for an extra dinner for her husband. "No, everyone just takes one" Munirah Hamid said, making sure that the food was distributed wisely. By 9.45pm, the serving was done. The volunteers packed up and headed to their second stop: Kota Raya.
Serves every Monday, Wednesday, Friday and Sunday. Interested to volunteer? Call 03- 78744203
Kechara Soup Kitchen

Kampung Bellamy is home to some of the city's poorest though many people have not heard of it. Since early January, the Kechara Soup Kitchen (KSK) has come here Mondays to Fridays to hand out lunch.
The KSK van has become a familiar sight to the residents, most of them elderly and without family. Today they approached the van immediately as it rolled into the nearby car park.
Under the scorching sun, the six-person KSK team handed the residents their lunch: vegetarian mixed rice and a bottle of Spritzer. The elderly men and women, some of them with walking sticks, hobbled back to their homes as soon as they received their food.
Not all of the residents came to the van. Some were too frail, while others simply waited at their homes. To reach them, the KSK team lugged boxes of food into the urban village's narrow alleys.
Decrepit houses made of wood and zinc sat on both sides of the alleys. An elderly man wolfed down his lunch immediately. He had no family so his neighbour looked out for him. Ms Chu, the neighbour, thanked the KSM team for the help.
In one wooden shack, mentally ill Ah Meng lived alone. He shooed the KSK team out as soon he received the food. In another house, friendly Madam Liew greeted the KSK team enthusiastically and asked them to enter.

The rounds were done by 2.30pm. As we went back to the van, KSK coordinator Justin Cheah told me that Kampung Bellamy is just the first of many areas which KSK hopes to cover. They hope to secure another van so that they can reach the poor in Abdullah Hukum. A Kechara member since a few years back, Justin was happy to serve the needy. So were the three young volunteers in tow: Christine, Yuan Hong and Tek Kin. Tomorrow and for more days to come, they will come to Kampung Bellamy again.
Serves Monday to Friday (1.30pm) and Saturday (11pm). Interested to volunteer? Call Justin Cheah 012-2032135