Their Music is Fun and Light-hearted, but Never Trivial: a Profile of the Punk Band Shh ... Diam!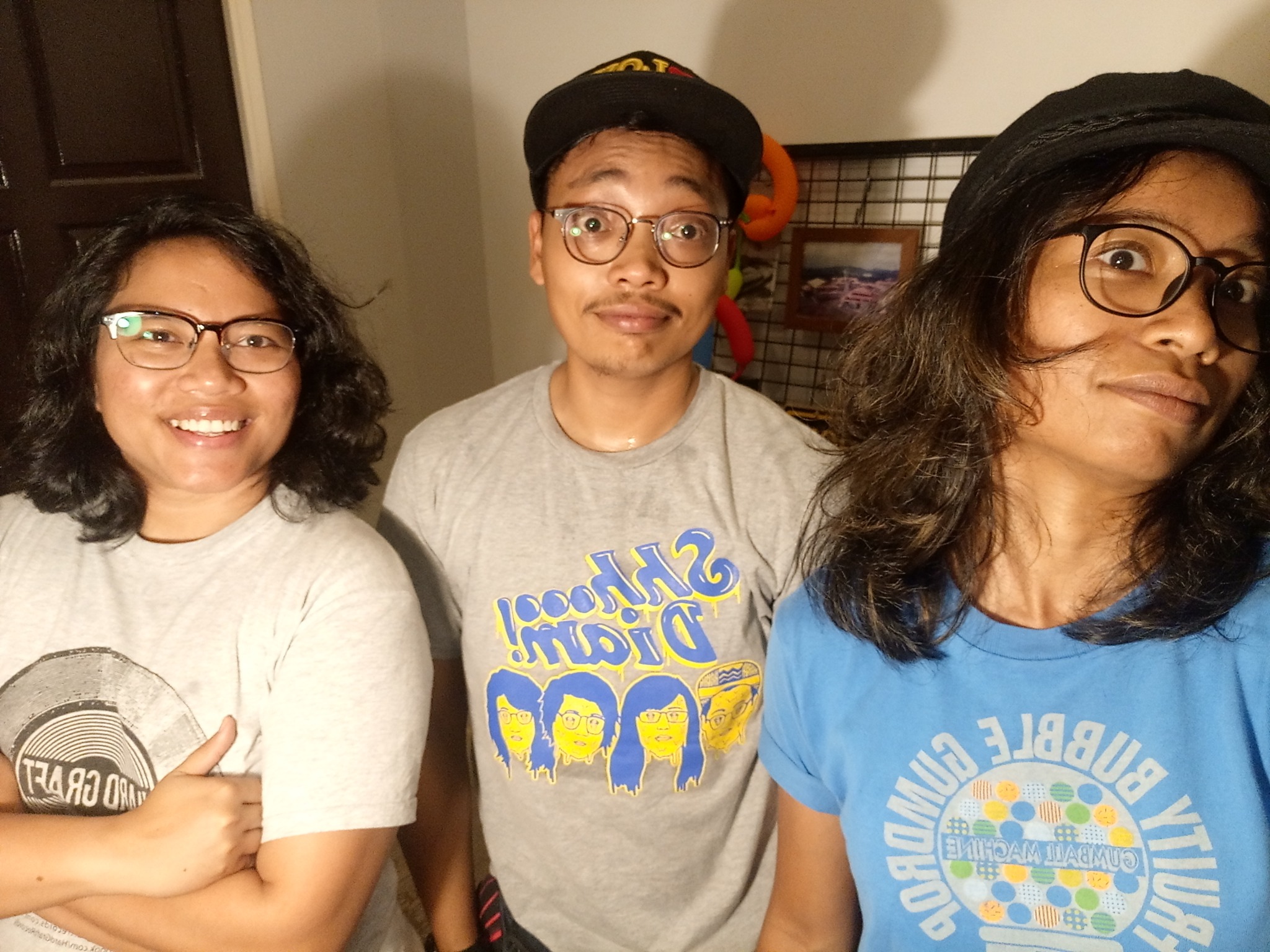 By Mohani Niza

Publication: Muslim World Today

Date of publication: 8th January 2018
If there is one thing that the Malaysian band Shh … Diam! ('Diam' means 'quiet' in Malay) wants us to know is that they just want to play good music and not take themselves too seriously.
The trio comprises of Faris Saad, Khairunnisa Mohd Nasir (also known as Yon) and Nurul Shuhadah (Yoyo) – all 33. Faris is the vocalist and guitarist, Yon the guitarist while Yoyo plays bass.
They have formal jobs by day but by night and on weekends they play music which they describe as "happy hardcore" and "queer punk". Some have described their music as "comedy punk."
"We don't need to be serious to sing about serious issues," Yoyo said during their interview at their loft-slash-studio outside the bustling Kuala Lumpur city centre.
Some tracks from their first album 'Attack of the Kongketron' are up on bandcamp. One of the songs is called 'The Bathroom Song."
"I love my bathroom/my sexy bathroom/my lovely bathroom," they croon. There are other light-hearted tracks as well, among them: 'Sivaji Shot a Horse in the Face' and 'I Woke up Gay'.
They even sing about the absurdity of Malaysian politics.
"We like to make things funny, even anger," Yon said.
However, the band was reluctant at first to pin down their style, but when pressed, said that it is "whatever the fans say about us and whatever we feel like saying."
This doesn't mean their music is irrelevant.
"We strongly believe in women's rights," they said, adding that they are okay in calling themselves "a queer band." In fact, their fans in Malaysia are mostly from the LGBTQ community, with most fans being young gay men from the ages of 18 to 25, according to statistics from Facebook.
So, who are they really? During the day, Faris is a writer, Yon a freelance translator and Yoyo is a project manager.
The band's formation was organic: they were strangers at first and came together nearly 10 years ago to perform at a pool party on the request of a poet friend.
At first, they started off playing covers.
"We even played The Cranberries," FS Saad recounted, with a laugh.
It hasn't been easy for them to sustain the band. They mostly raise funds themselves and rely on word of mouth for publicity, like the time they toured Europe in 2016. They performed in Germany, Sweden and Finland.
People came.
They played five gigs in Germany and the response was good. The band did not expect that their performances would pull a lot of crowd in Europe. In Hamburg, the gig was so crowded that many fans had to queue outside the door to get in to the venue.
"All the white girls wanted to make out with us because we are exotic," Faris joked.
The band is now working on their second album, but mostly they are taking it slow. They plan to tour Europe again and predict that they will make more profit this time around.
Asked whether they found music and being Muslims contradictory, they said no.
"Music is natural, like reading a book," Yoyo said. "If we can make people's lives happy for a few minutes, then we've done our jobs."
Check out the band on Facebook and if you would like to purchase their music, check out their page on Bandcamp.